This is the place for graphic novel reviews, but you won't find any traditional superheroes here. If you're like me, you enjoy your comics funny, strange, and sometimes a little dark. But you also value an interesting story and captivating illustration. Sounds like you? Keep reading!
Instead of the usual graphic novel review, this post will be different because last week was
Comic-Con International
in San Diego. I had the privilege of attending this year and wanted to share the two graphic novels I'm most looking forward to this autumn.
The main part of the convention is comprised of many booths inside of the convention center. To get an idea of what this looks like, check out the exhibit hall map. A lot of the booths not only offer an opportunity to purchase artwork, books, and a great variety of wares, but they also giveaway stuff. Lots and lots of stuff. I mailed myself an entire box of free books I picked up at the show, but that's a story for another post. One of the popular giveaway items was samplers: a sneak peek at upcoming books, comics, or graphic novels. There were two graphic novels that stood out to me as ones to watch for this fall after giving them a read.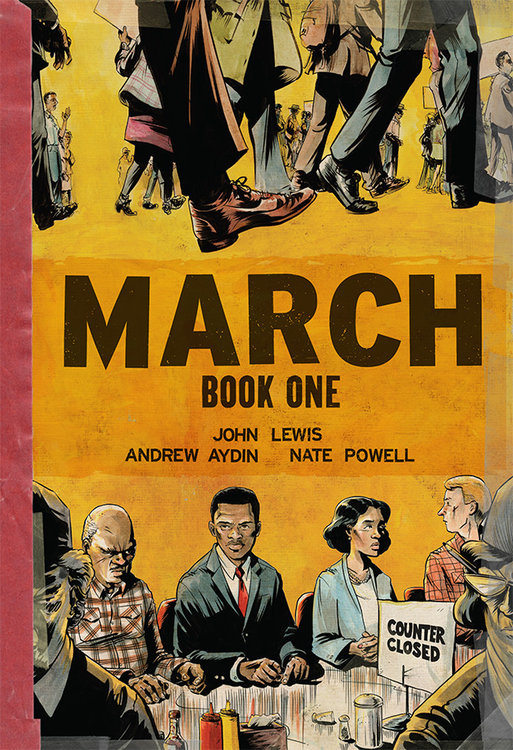 Photo courtesy of
Top Shelf Productions
March (Book One)
is the first story in a trilogy of graphic novels depicting the life of
Congressman John Lewis (GA-5)
a civil rights legend known as one of the "Big Six." Congressman Lewis co-wrote the story with aide Andrew Aydin. Artist
Nate Powell
brought the story to life with a traditional black and white comic style. This graphic novel will be the first ever authored by a sitting member of Congress.
March
looks not only to tell the story of Congressman Lewis but also to make the civil rights movement understood and accessible to generations that might not have been alive to experience it for themselves. View a sample by
clicking here
. Congressman Lewis was at Comic-Con this year to discuss and promote his graphic novel -- you can
read more about it here
.
March (Book One)
goes on sale Tuesday, August 13th.
Photo courtesy of
Yen Press
Miss Peregrine's Home for Peculiar Children was originally a novel by Ransom Riggs As a novel it was on the New York Times Best Seller List for more than 52 consecutive weeks. And those are two facts were completely unknown to me before I picked up an exclusive excerpt of Miss Peregrine's Home for Peculiar Children: The Graphic Novel. This is the tall tale of a young man in search of the truth after witnessing his grandfather pass away. Grandpa Portman was always telling his grandson, Jacob, about the strange and wonderful people and places of his youth. As Jacob grew older, he believed all of Grandpa Portman's stories to be false -- until he witnessed something strange himself and went in search of Miss Peregrine in the hopes of finding answers.
Artist Cassandra Jean incorporates the creepy pictures that made the novel famous into her work as she translates the original story into a graphic novel form that is both easy to read and exciting.
Miss Peregrine's Home for Peculiar Children: The Graphic Novel goes on sale Tuesday, October 29th.