I mentioned the California Book Awards event in the

Book It post for June

. The Book Awards began on June 11, 1931 -- 82 years ago -- in an effort by the

Commonwealth Club of California

to foster literature within the state. The California Book Awards have recognized some 500 authors -- John Steinbeck being one as he was awarded three gold medals.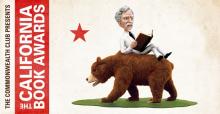 "It is the continuing goal of the book awards jury to find the best California writers for a particular year and to illuminate the wealth and diversity of California literature."
The event was charged with excitement and the room was full of authors and their families. The writers were very gracious in accepting their awards. After all of the awards were handed out, authors were available to chat and sign books. I was surprised how accessible everyone was -- even Pulitzer Prize winning author, Adam Johnson, answered questions as he autographed. I spoke briefly with Mariah K. Young; surprise and gratitude were written all over her face. It was a lot of fun and I highly recommend that you attend next year. Oh -- and you should expect your TBR list to grow exponentially.
I'm currently in the middle of reading Masha'allah and Other Stories by Mariah K. Young, winner of the silver medal in nonfiction. Before the Book Awards began, I purchased a copy of God's Hotel: A Doctor, A Hospital, and A Pilgrimage to the Heart of Medicine by Dr. Victoria Sweet, winner of the gold medal in nonfiction. Both are books I'm enjoying tremendously.
Each winner gave a brief speech, all of which were compelling. But I walked away very curious about three books in particular: Marissa Moss' A Soldier's Secret: The Incredible True Story of Sarah Edmonds, a Civil War Hero; Ken and Melanie Light's Valley of Shadows and Dreams; and Jennifer DuBois' A Partial History of Lost Causes.
Moss' book was inspired by the many women who fought in the Civil War, of which there were around 400. When she heard the story of Sarah Edmonds, she was intrigued. The more she learned, the more she wrote, and Sarah's story came to life. It sounds like the perfect book for young girls looking to connect with history.
A Soldier's Secret
is a book I would have loved as a young reader.
Ken and Melanie Light are a husband and wife team -- he's a photographer and she's a journalist. Both talented in their own right, they teamed up to tell the stories of immigrants living and working in the Central Valley of California. It's a topic close to my own heart as I focused my studies on immigration from Latin America while in college. You can get a peek into their work

over at Newsweek

. Ken and Melanie won an award for their contribution to publishing.
Jennifer DuBois' A Partial History of Lost Causes was chosen as one of

O, The Oprah Magazine

's top ten books of the year and was named one of the National Book Foundation's

5 Under 35

authors. And this is her debut novel. But it was Jennifer's explanation of what inspired the book that piqued my interest. She said it was Garry Kasparov's failed presidential run coupled with watching her mother care for her Alzheimer's stricken father that served as the basis for the book. If that isn't curiously compelling, I'm not sure what is.
So who's going with me next year?
Note: I live tweeted the event on a whim. If you're interested in checking it out, please

click here

. Pictures included! You can find a complete list of winners on the

California Book Awards page

.